Lane at Muscle Cars at the Strip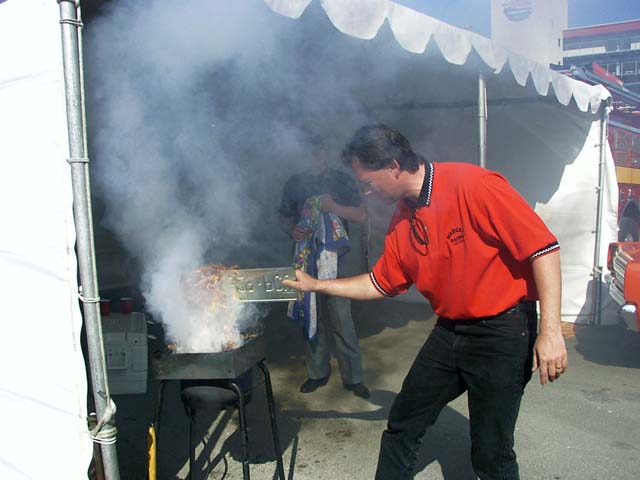 Lane McLenna was a personal friend of Smilin' Ed. I will always dedicate this photo gallery to him and his family. Lane and his wife died while attempting to flee Hurricane Katrina. Lane owned a 68 HEMI road runner that was built like no other Mopar I have ever seen before. I knew the man that did the body, and was told "Ed, not sure Lane will be the kind of guy that will just join your club."
Below are the details of his serious 1968 HEMI road runner along with people I know that helped to build this bird:
1968 Hemi 511 cid Magnesium Crossram (706HP) on 92 Octane too.
Twin 770 Holley's hydraulic lifters.
Engine Builder:  John Arruzza, North Carolina  email: arruzzahp@hotmail.com   (336) 475-0426

Body Restoration:  Julius Stuer, Texas
http://www.restorationsbyjulius.com
Hemi 4 speed (18 spline)
McCloud Dual Disc
Dana 60
4.10 Sure Pack Grip
Lane McLenna's Page in Memory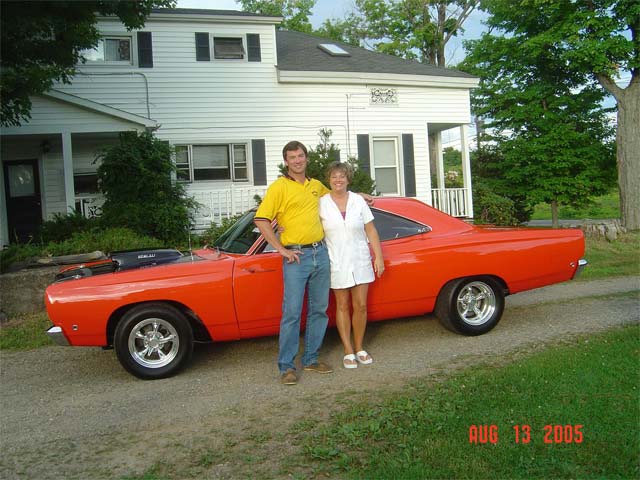 Lane McLenna a friend of mine that owned one of the most wicked 1968 HEMI road runners I have ever rode in and drove. Lane and his wife died sadly on September 23 2005 during the Hurricane Katrina in an auto accident fleeing from it. Before Lane passed he and his 1968 road runner left an ever-lasting etch upon me. Lane, like myself, was from New York. That along with many more common things, we hit it off pretty well. I was told by the builder of his car, whom I knew too, that Lane likely wouldn't be a car club member. That turned out to be wrong. We became pals, and so much so he actually allowed me to drive his 1968 crossram Hemi four-speed road runner. The sound of this website foreever is the loading sound when you vist this club website. Click Lane's road runner image to view the photos of when Lane too was a member of this car club. I also was welcomed to his home in New York when I visited and I got to meet his dad, and his sister Janine that still lives in NY that's Janine by her brother. This column will live as my friend rests.
1968 Plymouth road runner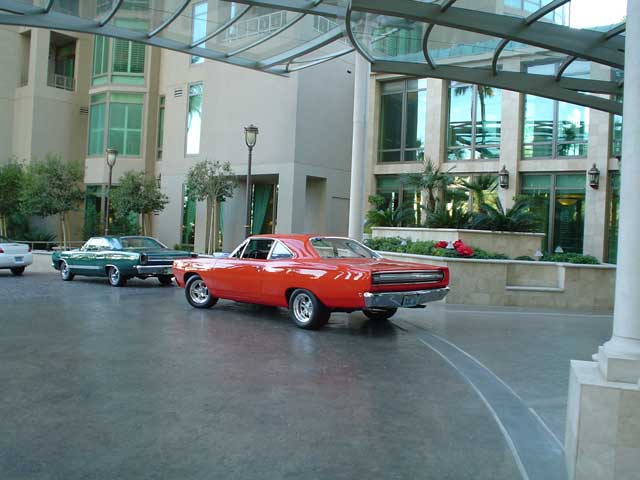 Click the image above of Lane's 68 road runner and Smilin' Ed's 69 GTX.
The sound of Lane's HEMI road runner is what you hear when you load this page. One day Lane enjoyed watching me after he let me drive his road runner while he was beside it coming back from storage. * What a freaking joy that was too driving this road runner! This car got 6 mpg, and compared to my 440 six-barrel GTX, it makes my GTX out to be a 4 cylinder. Lane gave me a ride and that was out in front of a local Plymouth dealership when Plymouth was around then too. You can see the tire tracks I took a picture of after that ride too! All I can say is I have not been afraid in many rides of many cars, this car was Fucking wicked! That phrase will put a smile on Lane's face as he was from New York as I am too. Enjoy the pictures when I post them. I am updating a new page for Lane as of 09-03-2022.