Smilin' Ed's (GTX)
This 1969 GTX I have personally owned for 42 years. It was once upon a time my daily driver. This GTX is a replacement GTX that went to the wrecking yard back in New York when I was in the Air Force. Please click the image below to see my photos over the years. Ma' Mopar expanded on the road runner when the GTX was produced. My name "Smilin' Ed" comes from the man that painted my GTX in 1991. Buck's card can be found under Contacts. I was one Smilin' guy when I seen the car. (the story) My GTX has the HEMI four-speed and Dana 60 too. Since 1987 the six-pack on the 440 that's in the car today that I built in my garage runs great! This motor will destroy the car on the Drag Strip, the car runs on 91 octane, and it will get 17 mpg on the highway also. Really! I smog the motor every year, and it passes. The motor was built by me with information taken from the "Engines Book" from "Direct Connection" Over the years I have had headers on the car and if anyone knows what a pain it is to service the plugs with headers are, you know that the factory Exhaust manifolds are much easier when the time comes to replacing the plugs. The car runs great! I must create a new photo gallery as FLASH no longer exists for websites.
Smilin' Ed's (GTS) a.k.a. KRISSY
This 1968 Dart Convertible was born as a 6cyl GT. I have named this car after the famous movie car "Christine" as this car has earned... her name "KRISSY". KRISSY has fought me and continues to fight the build even, after owning this car now for going on 6 years! She now sports and will continue to sport items that were actually on a 1968 Dart GTS. I had a real 1968 GTS and that car was traded for my 1969 GTX some 35 years ago now. (see the other button for my GTX. KRISSY now has a crate motor 360 rated at 320 horses, behind that is a 727 automatic, and out back the 8.75 rear-end holds the infamous 3.23 SureGrip to hook both rear tires when the 87 Octane (only) is transformed to power. Yes this ragtop is just a regular driver once again, but with the top down what a blast she is! Please click the image button below to see what this car came from being, to what I have envisioned her to be based upon what I know a 1968 Dart was that I had. A 1968 real GTS is an under-rated Muscle Car. If you ever rode or drove one you would really appreciate the A-Body Dart built by Ma' Mopar. I will be updating my page here soon.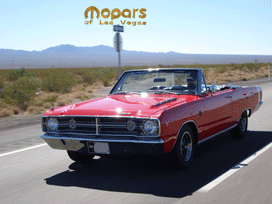 Christine - 1958 Plymouth
Christine is a Famous movie car! I most recently got to meet Mr. Bill Gibson (owner of Christine) here in Las Vegas at the Circus Circus Hotel during Halloween 2015! I am not making this up either. Watching a show called Graveyard Carz a cool Mopar show I seen Christine on TV. Anyone that knows me since I have owned my 1968 Dart I call "KRISSY" knows I named my car after this car. Fast forward, I am new to Facebook too, never wanted it, don't have time. Well I have been seeing cool photos of Christine there. I write to Bill Gibson and offer a few photos/words and low and behold photos I had taken of Christine was down in Van Nuys, California (when KRISSY) was supposed to be on the grass there. My car didn't make it, and I didn't know "Christine" was there! Weird? Keep reading! So I became friends on Facebook with Bill, mentioned if ever he comes to Vegas please look me up. He writes back "I will be there in a few days" I then ask, is "Christine" with you? Keep in mind Bill is from Florida! He writes yes, she's here too. I have given Bill rides in KRISSY, and my GTX and asked his permission to post "Christine" beside her cousin KRISSY. I have had to change my page but it's all about timing! Click "Christine" I have links, photos, etc. Thank you Bill, great to be friends, and see Christine.