Smilin' Ed's (GTX)
This 1969 GTX I have personally owned for 44 years. It was once upon a time my daily driver. This GTX is a replacement GTX that went to the wrecking yard back in New York when I was in the Air Force. Ma' Mopar expanded on the road runner when the GTX was produced. My name "Smilin' Ed" comes from the man that painted my GTX in 1991. I was one Smilin' guy when I seen my car. (My story) My GTX has the HEMI four-speed and a Dana 60. Since 1987 the six-barrel on the 440 that's in the car today I built in my garage runs great! This motor will destroy the car on the Drag Strip, the car runs on 91 octane, and it will get 17 mpg on the highway. Really! The motor was built by me with information taken from the "Engines Book" from "Direct Connection" Over the years I have had headers on the car and if anyone knows what a pain it is to service the plugs with headers are, you know that the factory Exhaust manifolds are much easier when the time comes to replacing the plugs. The car runs great! A new photo gallery will be created.
I just created a complete photo gallery of my 1969 GTX since 1978. Click my GTX below or the image above. 09-29-2022
Smilin' Ed's (GTS) a.k.a. KRISSY
This 1968 Dart Convertible was born as a 6 cyl GT. I named this car after the famous movie car "Christine" Her name is "KRISSY". She sports real GTS parts that were actually on a 1968 Dart GTS. I owned a real 1968 GTS and that car was traded for my 1969 GTX some 44 years ago. (see the other column on my GTX. KRISSY now has a crate motor 360 rated at 320 horses, behind that is a 727 automatic, and out back the 8.75 rear-end holds the infamous 3.23 Sure-Grip to hook both rear tires when the 87 Octane (only) is transformed to power. Yes this ragtop is just a regular driver that I drove to work before I retired and currently enjoy. A 1968 real GTS is an under-rated Muscle Car. If you ever rode or drove one, you would really appreciate the A-Body Dart built by Ma' Mopar. This column like the rest of the website, I am updating the pages. KRISSY will be on display for all to see from how I found her in 2005 and how she looks currently. She will become a Four-Speed GTS-Tribute one day too.
I am creating new buttons on the top menu that will be videos of my KRISSY, GTX and my POWER WAGON that's a 1975 Dodge Adventurer 100 318 all-wheel drive four-speed on this page only, the buttons currently are not working correctly. 8-20-22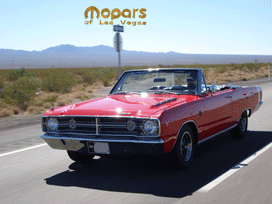 Smilin' Ed's (Power Wagon)
Christine This is my 1975 Dodge Power Wagon Adventure 318 4x4 all-wheel drive four-speed. I have owned this Power Wagon now since 1994. If you have never been in LOW LOW gear in first gear of a Mopar Truck this little 318 will climb mountains and tow and fry up all four wheels with the Holley four barrel carb I have on it now. I love my old Power Wagon. I will create a photo gallery for my Wagon as soon as I can.