FEATURE VEHICLE
October Mopar is a 1968 Plymouth Fury III
Growing up in 70's and 80's in Pennsylvania, I didn't realize it at the time that I had the Mopar bug. It wasn't by conscience choice but more like chance. As a teenager I drove 3 Dusters,  1 Fury and a Road Runner. Like all cars back then, you drove them hard and threw them away…ahhhh had we only known. By my early to mid 20's, marriage, job and family duties come into play. So then it's any make or model sedan or minivan that will fit the family comfortably and get decent gas mileage is the new priority.  Yes, I was a Dodge Caravan and K-car owner and by 2005 I had the "Classic Mopar" itch. The town I grew up in wasn't a mecca of hot rods.  There was one neighbor 5 miles down the road who had a red 72 challenger. I wanted it. That thing was the baddest looking car I'd ever seen.  So my search 11 years ago led me to the Cuda's and Challengers. The 70 and 71's were untouchable, everybody wanted those, but I see their younger brothers and sisters…the 72 thru 74's were priced decently. I stumbled across a 73 gun metal grey Challenger on the internet sitting at dealership in Michigan. Dealer's story was that the previous owner spent all his money on the motor and was stripping the car to race. The all too common story… "I ran out of money and had to sell it".  Kinda sad, because I knew he was a car guy when he handed over all the receipts that he had spent on the car.  This certainly helps the next owner to know what parts he or she needs when it comes time to replace them.  Although I love to put the 440 4-speed through its exercises, I began to notice I'm driving it less and less due to traffic, 3 to 5 minute traffic signals and of course that damn desert heat. Black interior, big block with no A/C and 3 inch pipes underneath the seats.  Away from town it's a blast….in town not so much. My wife and I needed a cruiser!!
So, just a few weeks ago I'm surfing the internet once again for classic cars, not necessarily for purchase, but just to daydream and stay on top of the market. The old Fury's have always caught my attention. I'm not sure what it is. Years back I had a 67 Fury III, with the 318 and 4 doors. I really liked that car, but like I said earlier…drive'm ,throw'm away.  I started looking for a two door convertible a couple years ago, not seriously but I found the best time to find a deal is when you're not looking.  So, I Googled "Fury III" and this 1968 Mist Turquoise convertible popped up and I noticed it was local. Of course I had to at least go take a look at it….Besides, it's not like I'm gonna buy it!....Right? Well, as you can see…..I bought it. I found out it helps your cause if the wife likes it even more than you do. The newest member of the family is a 68 Plymouth Fury III convertible.  4,483 made. An original 318 automatic, and somewhere along the line she got a 383. Some of the selling points  for me were the aftermarket A/C, a new top, good paint and body, complete interior, all the trim, knobs and buttons are all there….I was amazed…Oh  and the fact it's virtually a rust free car.  I have a few plans to upgrade the engine and drive train. I promised myself (and the wife) that I'd drive this one, so my main goal is to make it dependable for long weekend trips.  I have noticed it goes through a little bit of oil…from underneath and from the tailpipes….So I guess I should start there.
 Randy's photos are posted!. Smilin' Ed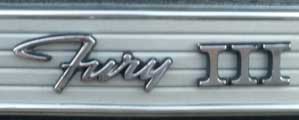 EVENTS AND ARTICLES
Oct 13th - 15th Club meeting (see below)
Mopars of LV Club Meeting 10/13 - 10/15
Romeo's Relic Racing in Boulder City, members have been emailed on details. If you need more information be sure to contact me please (no Poker Run this year). Members need to contact me on what food you can bring please. You are going to have opportunities to help our member out by cleaning out his memorbilia, tools, even a HEMI car will be up FOR SALE! Don't miss out on our very first club meeting to run over an entire weekend! Romeo wanted all to have a chance to show up regardless of your schedule. I am planning on being there for the entire 3 days with one of my Mopars too. Maybe both will be there.
It's a Garage Sale & a Potluck and we will take a Cruise too from this meeting!
October 13th 6pm - 9pm
October 14th 9am - 3pm
October 15th 9am - 3pm
10/19-10/21 Barrett Jackson
https://www.barrett-jackson.com
10/27-10/29 NHRA Drags
10/28 Chrysler Performance West
http://www.cpwclub.com/fallfling.php
10/31-11/3 SEMA
https://www.semashow.com/the-sema-show
Sept - Dec Drag Racing Dates
http://www.lvms.com/dragstrip/tickets_schedule
11/4 Goldstrom's Show
https://nostalgiastreetrods.com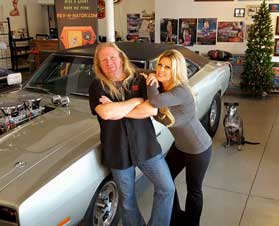 Click on Troy and Laura of "The R/T Garage"
Smilin' Ed News (President)
The site was updated October 1st 4:13 pm



Click my (Dash / Headlight) button above to view Smilin' Ed's personal page where I have photos of my 1969 Plymouth GTX and " KRISSY", my 1968 Dodge Dart GTS Convertible. (clone) You can Email me clicking the Envelope or the Facebook icon for the club's Facebook. It is always best to just email me if anyone really wishes to reach me.
The Feature Mopar for October is a 1968 Plymouth Fury III convertible. Randy's Fury III photos are in the works as of this post. I will have Randy's photo gallery is posted now enjoy as I do the coolest Mopars we all enjoy here in Vegas. Smilin' Ed
Members of the club, NOTE.. We are not this October going to have our Poker Run. Instead I am teaming up with a member that has a garage in Boulder City to have a (3) day car club meeting, potluck and a drive on the weekends posted. This should be different and you have a great opportunity to pick up some tools, and other cool stuff being offered. Our minor children will be welcomed there not like some of the establishments in past Poker Runs don't allow. Members with racing gears, they can simply make it out to the shop and park and we can enjoy your Mopars that way sitting too without worrying about over reving your Mopars on a highway or overheating too! I have posted a list of local car events around Vegas to look into too.
I formed this club in July 2002 with the idea I just wanted a few more cool Mopars to park my 1969 GTX by. Over the years this club has grown to be known in many states, and also other parts of the world. As of this date we have 367 vehicles and 228 members in our club and we continue to keep growing! We have very simple rules in our club with no dues. If you think you want to be a part of us simply contact me. I will be more than happy to send you the club rules to become a part of this "Private Club". Thank you, and enjoy our Mopars.