FEATURE VEHICLE
This month's Mopar is a 1970 Dodge Challenger T/A 340 Six Pak, Pistol Grip four speed, 8.75 Sure Grip. I had Shelly explain in more detail about this very cool Mopar that's been in her family and has been passed on to her. Be sure to click on the Challenger to view Shelly's photo gallery I created for her.
My dad intrusted me with the honor of giving me his rare beauty just weeks before he passed away in January of this year. The car has made a full circle coming back to Vegas, as he bought it out here 16 years ago from Great auto and he had it shipped out to OC California, where it has been in various shows but mostly kindly garaged for most of its time. I have big shoes to fill in caring for 'William" (what I have named the car after my dad) and seeing it gets the attention it so deserves. I am nervous with the enormous responsibility I have been given, but once I sit in that drivers seat, I suddenly become confident "I GOT THIS" as if my father is there in the passenger seat next to me.
Please click on the back of Shelly's T/A below for a full photo gallery.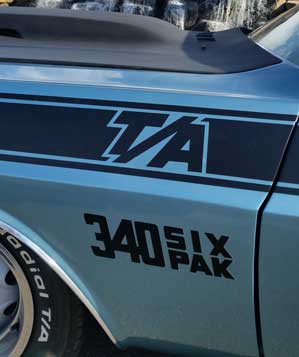 Smilin' Ed News (President)
The site was updated April 9th 9:48 PM



Click my (Dash / Headlight) button above to view Smilin' Ed's personal page where I have photos of my 1969 Plymouth GTX and " KRISSY", my 1968 Dodge Dart GTS Convertible. (clone) You can Email me clicking the Envelope or the Facebook icon for the club's Facebook. It is always best to just email me if anyone really wishes to reach me.
The Feature Mopar for April is a 1970 Dodge Challenger T/A 340-SIX PAK, Pistol Grip four speed. Shelly is a newer member to our club. You can click on Shelly's T/A to view her photo gallery.
I have another new friend to share with visitors to our club website. William Baldwin owner of "Baldwin Performance Carburetor". I have made up a quick link and image to click and get some help for your Carbs! Tell William I sent ya too. He has been for the past few days working directly with me on my own Six Pack carb set up. I have been very impressed by his work he has been posting on Facebook and with that said. I support William and hope my people that visit here will consider contacting him with your carb work.
I formed this club in July 2002 with the idea I just wanted a few more cool Mopars to park my 1969 GTX by. Over the years this club has grown to be known in many states, and also other parts of the world. As of this date we have 367 vehicles and 228 members in our club and we continue to keep growing! We have very simple rules in our club with no dues. If you think you want to be a part of us simply contact me. I will be more than happy to send you the club rules to become a part of this "Private Club". Thank you, and enjoy our Mopars.