FEATURE VEHICLE
Dean has provided this story of his Mopar. It's a 1961 Chrysler Windsor or Newport which was the bottom of the line model. It is a 2 door hard top too. Its original color was white. A friend told me that if you want any kind of press coverage paint the damn thing red. So red it became. I purchased the car from a local body shop that had done work for me previously. The car was basically a shell with no engine, transmission, or interior. It was the perfect future race car.
My late good friend Steve Waldman who was president of Silver State Challenge got me interested in open road racing. The Chrysler was built for endurance racing not quarter mile. When I started planning on building the car I was involved in restoring thh famous Chrysler 300 Letter cars of the 50s and 60s. I had plenty of leftover trim parts to make this car resemble a 1961 Chrysler 300 G. The car is on about its 3 or 4th 440 engine at this time. The transmission is basically a stock Torqueflite. The rearend is now a 8.75 with 3.23 gears. I started with 2.76 gears but the roads I race on in Mexico need more pull at low speeds so I so I switched to 3.23 gears but the high speeds I'm not turning a lot of RPM. While I have entered the 130 MPH class at Silver State Challenge, and finished in class, the speed which the car was most comfortable at was about 110 MPH sustained.
The car has a 2" siz point roll cage, a 32 gallon fuel cell, a Holley 4150 Carb. The Chrysler is a 2 person race car. In most racing events I have entered a navigator is usually required. I highly recommend doing the La Carrera Panamericana if you want a Bucket List experience but it ain't cheap. In 2005 we made the LCP a family experience and my sister went as my navigator and my brother-in-law drove the chase truck. We had a damn good time but I became deathly ill with food poisoning and my sister had to handle all the tech and check in while I was trying to die in the truck!
The club logo below you can click and will open in your browser a FLASH photo gallery.

EVENTS AND MEETINGS
Oue club is in Hibernation for the summer HEAT. I know many are wanting to have a meeting as I am too. Just as soon as it cools down below 100 degrees we will all hook up! Head to your garages and get your Mopars ready please!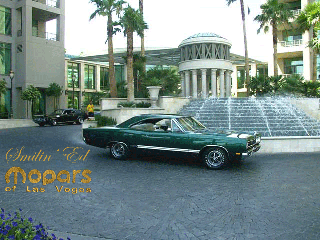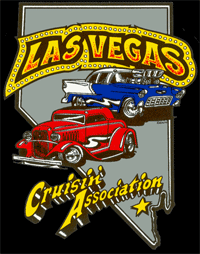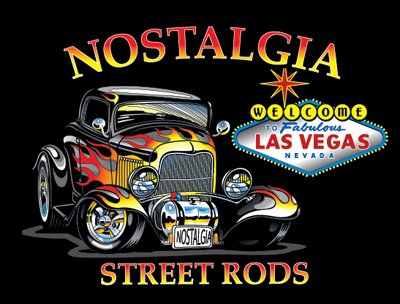 Friends of our club please visit Las Vegas Cruisin' Association and Nostalgia Street Rods. If you love cars click the images for links to their website. Cool stuff! Below is yet another link I created to other clubs in Vegas! Click that logo below for even more. Enjoy Smilin' Ed

Valley of Fire 2015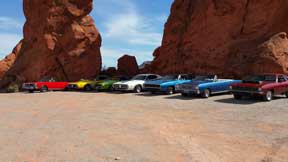 Smilin' Ed News (President)
The site was updated August 15th 10:15 PM
The Feature Mopar for August is a 1961 Chrysler Windsor. Dean has been a longtime member of the club. His Mopar will be over in the FEATURE VEHICLE column soon please check back.
Club has an opportunity to show your stuff during the SEMA show. Please email me for details.
I formed this club in July 2002 with the idea I just wanted a few more cool Mopars to park my 1969 GTX by. Over the years this club has grown to be known in many states, and also other parts of the world. As of this date we have 367 vehicles and 228 members in our club and we continue to keep growing! We have very simple rules in our club with no dues. If you think you want to be a part of us simply contact me. I will be more than happy to send you the club rules to become a part of this "Private Club". Thank you, and enjoy our Mopars! We do!
Click my (Dash / Headlight) button below to view Smilin' Ed's personal page where I have photos of my 1969 Plymouth GTX and " KRISSY", my 1968 Dodge Dart GTS Convertible. (clone) You can Email me too with the Envelope. AND... Sit down for those that know me! I have added yes, a Facebook icon for the club's Facebook. Click on it and it's my Smilin' Ed page. If you just need to do Facebook go on out and send me a request and when I get to it I will accept you as a friend if I know you. It is always best to just email me if anyone really wishes to reach me.