FEATURE VEHICLE
Our MAY Home Page is a 1972 Duster owned by Andrea. Andrea has no problem racing her Duster either. Her FEATURE VEHICLE story is this: Her Duster (aka DUSTY) is definitely one of a kind. Although it's originally a very common 1972 Gold Duster she didn't want original. This car is all her idea. It all started when she returned home from a show with her husband (Shawn) and there GTX. She looked over at him and asked for a car of her own. What husband doesn't want to hear that?!! I knew of this Duster and said lets go take a look. We lucked out, and the previous owner had just completed the body work, so she had a clean slate to work with. The idea was to build a fun street car. Being a female she really likes the color pink, but once you get to know her you find out that flashy is not her thing. She had the idea of reversing the original paint scheme. Instead of Moulan Rouge (color code M5) being the predominate color, and matte black on the hood and stripes like the 340 style, she wanted to reverse the colors. After we finished sanding and refinishing the engine bay we installed a new comp cam, intake, Mopar dress up kit, headers, aluminum radiator, and Edelbrock carb. We matched that with an all new 3" H pipe exhaust with Flowmaster 50 series mufflers. I knew she had to stop safely so installing a big bolt patter disc brakes was a must. The 727 was rebuilt, a new 8 ¾ rear end installed with new axles, and 3:55 gears. Lastly we worked the interior. Removed and refinished the dash and stearing column. She didn't like the old one piece cardboard headliner, so we removed it, and made our own headliner bows for the fabric headliner. The 98% (always something to do) finished product is something that she absolutely loves!!!! Her favorite thing to do is show up little boys in Mustangs on the street! The club logo below you can click and will open in your browser a FLASH photo gallery.

EVENTS AND MEETINGS
Club Event for May will be planned soon.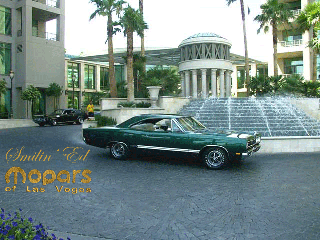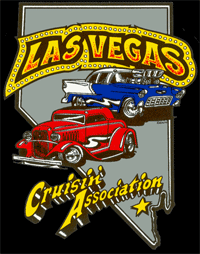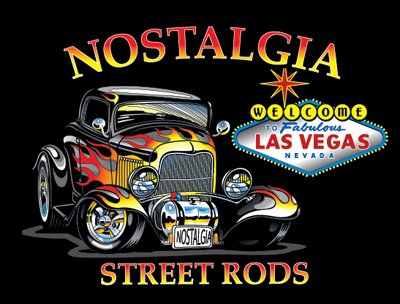 Friends of our club please visit Las Vegas Cruisin' Association and Nostalgia Street Rods. If you love cars click the images for links to their website. Cool stuff! Below is yet another link I created to other clubs in Vegas! Click that logo below for even more. Enjoy Smilin' Ed

Valley of Fire 2015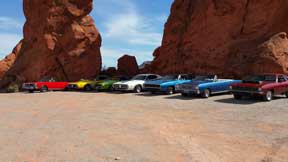 Timbers Group has been friends of our club since I formed this club. Our club has a meeting every 3rd Wednesday at a local Timbers Bar and Grill while 2016 Vegas temperature will support great weather. The month of March may not happen as Muscle Cars at the Strip is a major event and the club also needs to be planning for the Spring Run toward Valley of Fire, or Lake Mead. Details TBA.
Smilin' Ed News (President)
The site was updated May 1st 10:11 PM
The Feature Mopar for May is a 1972 Duster with a 360 and Andrea has no problems taking her Mopar to the Strip either. Andrea's story is over in the FEATURE VEHICLE column. All photo gallery's on this site are in FLASH, so most phones won't display the images. Your browser on your computer will just click the link you see when you try to view the photos.
The club now has a new Vice President too. Shawn, just so happens to be the husband of our FEATURE Mopar member this month too! Shawn like myself also owns a cool GTX, his is a 1968 GTX. Anyone reaching out to our club can write now to me or Shawn under CONTACT.
I formed this club in July 2002 with the idea I just wanted a few more cool Mopars to park my 1969 GTX by. Over the years this club has grown to be known in many states, and also other parts of the world. As of this date we have 367 vehicles and 228 members in our club and we continue to keep growing! We have very simple rules in our club with no dues. If you think you want to be a part of us simply contact me. I will be more than happy to send you the club rules to become a part of this "Private Club". Thank you, and enjoy our Mopars! We do!
Click my (Dash / Headlight) button below to view Smilin' Ed's personal page where I have photos of my 1969 Plymouth GTX and " KRISSY", my 1968 Dodge Dart GTS Convertible. (clone) You can Email me too with the Envelope. AND... Sit down for those that know me! I have added yes, a Facebook icon for the club's Facebook. Click on it and it's my Smilin' Ed page. If you just need to do Facebook go on out and send me a request and when I get to it I will accept you as a friend if I know you. It is always best to just email me if anyone really wishes to reach me.