FEATURE VEHICLE
Mopars of Las Vegas "April 2018 Mopar" is a numbers matching, original 'V' code 1970 Roadrunner. A video and photo gallery is available to view now. You need Google Chrome to view the video. Chrome Download is available by the road runner image too. Grab the Pistol Grip Shifter to view photos of the car. This car is the "real deal" and runs like a rocket. She is super fast and runs great. The car still has the original fender tag and build sheet. The Six Barrel carburetors are fresh off a complete rebuild. Lights and instrumentation are all in working order and she starts right up like a new car. This is a great car for somebody that just wants to hop into a true muscle car from the day, but at the same time won't have to worry about getting a scratch on her. Cosmetically, this is a driver quality car and not a show car.
Fully restored, this is a $100,000.00 car, but you cannot enjoy a $100,000.00 Roadrunner like you can one that is affordable. This car can be driven anywhere and is ready to go. Interior is decent. The bad? OK, I will not "sugar coat" the problems. Photos always make a car look better than it is in real life. The paint on the car is not that of a professional grade. The chrome is in bad shape and the biggest issue is undercarriage rust. Although you can drive it as is, I would recommend that the buyer have some frame repair capability to bring the integrity back to such a powerful beast. Floor boards will also need eventual replacement. If you are looking for the ultimate muscle car of 1970 without the price tag, this is the car. Contact Elliot: Phone: 702.809.7337 or email: elliot@geminijets.com Elliot's asking $46K for this bird too.
Numbers Matching Original 440 Six Barrel
4 Speed Hurst Pistol Grip (original)
4.10 Dana Super Track Pack (original)
Hard Top
Power Front Disc Brakes
Manual Steering
Bucket Seats
Headers
New Starter
New Battery
New Air Cleaner
New Exhaust
New Tires (front only)
Clear Title and currently registered
..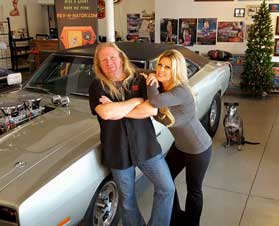 Click on Troy and Laura of "The R/T Garage"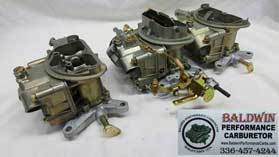 Click Six Pack Carbs to view website of Baldwin Perf.
Smilin' Ed News (Column)
The site was updated April 10th 10:25 pm
This month we have a 1970 4 speed 440 6 bbl Dana 60 road runner as our FEATURE Mopar. This car is FOR SALE too. The website is under construction. I have just posted the video of the road runner to view. You need Google Chrome to view the video that is 50 MB. I have an icon below Elliot's story on the road runner to get Chrome. If you have Chrome, open our website in Chrome and then click the button to view the video. If you have Facebook, I have the video posted there. Just click on the F.
I just posted tonight our club meeting held out at the Valley of Fire. Click the image below to see my photo gallery I created, most images captured by Smilin' Ed. I love our Mopars! Thank you to my members for coming out too. I missed many of the club, I hope you can attend next time. View the photos to see what you missed.
Valley of Fire Club photos April Meeting.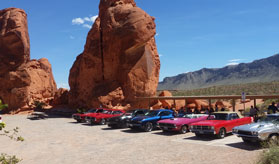 I formed this club in July 2002 with the idea I just wanted a few more cool Mopars to park my 1969 GTX by. I have very simple rules in our club. If you think you want to be a part of the club simply contact me. I will be more than happy to send you the club rules to become a part of this "Private Club".



.. Contact Smilin'Ed by clicking the Envelope or the Facebook icon for the club's Facebook. Wish to become a member? Email me, I will reply with the club rules.