FEATURE VEHICLE
This month's Mopar is a 1972 Plymouth 'cuda. It is a real 'cuda too. Mike bought this Cuda (BS23) car in 2013.
Originally it was a small block car and now it has a hot 440 727 combo. The Dana 60 rear end has 4.10 gears.
The  hood scoops are functional and seal to the intake.
The car was raced by the previous owner Allen Dean Short. Allen raced this car at Pinks All Out in 2009 with a 10.4 second quarter mile.
The car now resides in Boulder City where its duty consists of taking kids to school in the morning and local car shows.
Please click on the back of Mike's 'cuda below for a full photo gallery of my favorite shots!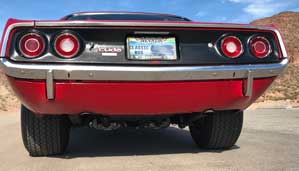 Smilin' Ed News (President)
The site was updated March 18th 11:03 PM



Click my (Dash / Headlight) button above to view Smilin' Ed's personal page where I have photos of my 1969 Plymouth GTX and " KRISSY", my 1968 Dodge Dart GTS Convertible. (clone) You can Email me clicking the Envelope or the Facebook icon for the club's Facebook. It is always best to just email me if anyone really wishes to reach me.
The Feature Mopar for March is a 1972 Plymouth 'cuda. Mike is a new member in our club, and I am happy always to add Mopars to the ranks of our club! Mike drives this 'cuda daily too. Be sure to read Mike's details he provided me on his fish under the FEATURE VEHICLE column. You can click on Mike's 'cuda under his story in FEATURE VEHICLE, or simply clicking on his cuda when it was raced with "Pinks All Out".
Our March club meeting flyer has been posted! Members are to meet at Sonic March 19th from 11AM - 1PM. Click the flyer to enlarge it.
I have some new friends that own "The R/T Garage". Laura and her husband Troy have been keeping the Mopars alive for a living. I have created a page just for them. Just click on Troy's Charger in the next column with his wife Laura by his side. You will view a cool page I made to feature what they do with making our Mopars perform even better. If that is not enough, Laura has a 2017 calendar that she models by some Mopars too. All you have do is click on her image of the AirGrabber hood on the page I made to place your order.
I formed this club in July 2002 with the idea I just wanted a few more cool Mopars to park my 1969 GTX by. Over the years this club has grown to be known in many states, and also other parts of the world. As of this date we have 367 vehicles and 228 members in our club and we continue to keep growing! We have very simple rules in our club with no dues. If you think you want to be a part of us simply contact me. I will be more than happy to send you the club rules to become a part of this "Private Club". Thank you, and enjoy our Mopars.