FEATURE VEHICLE
The Feature Mopar this month is a 1971 Plymouth 'cuda. Here is Will's story: I have been a muscle car fanatic since I can remember. Growing up I remember hearing stories of my cousin winning another race, as a child questions like. Who is this guy? Where is he? Is that him in the picture? What kind of car is that? You get the idea. Although I didn't have the opportunity to spend any real time with MR. 4 speed McCandless my juices were flowing. Jumping forward a few years I was 15 and eyeballing this old rusted out purple Cuda, salivating over it my dad said no its to much work. He then found me a 77 chevy sport step side with a blown motor but otherwise a nice truck , this was where I finally got my hands dirty and dropped a 454 mild cam etc. and was hooked on HP but that purple Mopar was still pulling at the back of my mind. I went through life building some award winning cars and some fun little street cars here and there Chevelle a couple El caminos, Nova, even a Mitsubishi you get the idea but that Mopar was just screaming at me by now. Now several years and a few injuries go by and I'm just casually browsing adds knowing I want to fill this hunger but not really believing the possibility that it would ever happen, thinking to myself my injuries won't let me build another one at least not ground up nor by myself. At that moment I stumble across this 71 Cuda and those memories of that purple rust bucket start flowing I showed it to my wife in excitement and then we kind of blew it of with a laugh and left the following weak on vacation. After we returned I was browsing the ads again just as I always did for fun and it was still there once again I showed my wife (can you believe its still there?) She looked at me and said go get it Happy Birthday my jaw dropped in disbelief. The car is a 1971 Cuda it was about 70% done and had been sitting that way for 5 years due to the previous owner having a couple of heart attacks. I trailered it home and began going through it. The paint was pretty good but has some things that need addressed as for the interior motor trans etc. She has a 440 bored 30 over with a mild stroker kit, Indy aluminum heads and intake and a Hughes cam all built by Hughes Racing We backed it up with a 727 From TCI with a reverse manual valve body and put it to the ground with a 8 3/4 reinforced rear end with 3.91s in it. It dynode at 685hp to the rear wheels. Its painted sublime green with 440 bilboards and a cowl hood. We also had a high tech alarm by drone mobile with gps tracking installed and iPhone app to control everything. Needles to say that Mopar thats been in my blood since birth is finally in my garage where it belongs and probably will be passed on through generations from now on.
Thanks, Will McCandless
The club site is a (Flash) site so you do need to have Adobe Flash installed on your browser, just click the link as you see it for viewing the cool Mopars on this site. (Photos posted Click Logo below)
Photos.

Click
EVENTS - MEETINGS - CLUBS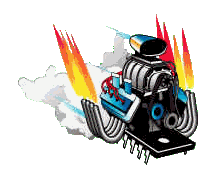 Local Clubs ( Click HEMI)
Club Meeting OCT 22nd 7 - 7:30 PM begin showing up at "SONIC", location: 6135 S. Pecos cross street is Patrick. Club members need to notify me that you are coming. Details available by emailing me. Meeting turning out to be a good meeting see you soon! Thanks Smilin' Ed
The club Annual Poker Run with Timbers Bar and Grill won't be with that business this year. Sorry!
Smilin' Ed News (President)
The site was updated Oct 19th 10:05 PM
Club website photos are in Adobe Flash be sure your Browser has Adobe Flash to view the cool Mopars on our site. Link on photo pages if needed.
I just posted the Mopar of the Month 1971 'cuda videos 3 under the DOWNLOADS button. The files are large, so you need highspeed internet as they are around 25 - 30 MB large. The files are .wmv so Windows Media Player will open the files. Look for the 'cuda on page 2. Page 3 I just posted now. Smilin' Ed just had a test ride in the 'cuda to check it out. Will and I wanted you to take a ride with us. Enjoy! Club meeting is going to be pretty good too I have a great reply from members. See you all Wednesday around 7PM after I get off work.
Mopar of the month is a 1971 Plymouth 'cuda. Will the owner of the 'cuda is a new member and when he contacted me I was surprised by his famous last name. Please read Will's story under the FEATURE VEHICLE. I have every member write an article on how they came to love a Mopar. You will enjoy his story. Click on the 'cuda to view more images too. I was told the 'cuda can pull the wheels up about 10" off the ground too. A cool Street Machine for sure!
The club has scheduled a club meeting Oct 22nd at "Sonic" Mopars and members are welcome. Details are in the column to your left. See you there!
I formed this club in July 2002 with the idea I just wanted a few more cool Mopars to park my 1969 GTX beside. Over the years this club has grown to be known in many states, and also other parts of the world. I have very simple rules in our club with no dues. If you think you want to be a part of us simply contact me. I will be more than happy to send you the club rules to become a part of this "Private Club". Thank you, and enjoy our Mopars! We do! I am Smilin' Ed the President.
Click my (Dash / Headlight) button below to view Smilin' Ed's personal page where I have photos of my 1969 Plymouth GTX and " KRISSY", my 1968 Dodge Dart GTS Convertible. (clone) You can Email me too with the Envelope.