FEATURE VEHICLE
Mopars of Las Vegas "December Mopar" is a 2011 SRT8 392 Challenger. Below is our new member Elliot's story I wish to share with you:
I got the Mopar "itch" back in my high school days in the suburbs of Philadelphia during the 1970s. Most kids had Camaro's and Mustangs and I had a 1968 Corvette with a 427 Tri-Power. My best friend had a '69 RoadRunner 383 w/a Hurst Pistol Grip. Of all the second hand muscle cars that littered high school parking lots in the 70s, the Mopar B-Body cars always interested me. Despite my interest in them, I never owned one as most worked their way to the junk yards or the crushers. For those of us that grew up in the 60s and 70s, most cars, regardless of the brand, had about a 10 year shelf life, before rust took over. Fast forward to 2011.
Tired of the high cost of ownership of high end Porsches and Mercedes, it was time to fulfill my childhood dream and get myself a MOPAR. On the Internet, I spotted the first Challenger Inaugural 392. Little did I know, things would not be so easy when the local dealership in Las Vegas was asking $30K OVER sticker for the car. I was met with dealer mark-ups wherever I searched. Sorry, but I was not prepared to pay nearly $100K for a Dodge, at the time. After researching on various Challenger forums, I was directed to a dealership in Omaha Nebraska selling the vehicle at full sticker (approx $62K), so I concluded the deal.
The Inaugural 392 came in only two colors, both of which were equally appealing in looks. Blue with a white stripe or white with a blue stripe. Production numbers of this limited edition car were 1492, with 392 units going to Canada. All these cars were individually numbered with a plaque on the right hand dashboard. The total production was split up evenly not only half in blue and half white, but with manual and automatic transmissions. I opted for a white car and a six speed manual. Best choice I could have made. The car has been awesome. Stupidly, I drove the car the first 3 years and put 19K miles on it. It has mostly sat in the garage since and I only put about 100 miles on it per year now over the past 3 years. The only mechanical issue the car has had is it did require a warranty clutch slave cylinder replacement, about one year ago.
Elliot's photo gallery click the 392 for your view.

EVENTS AND ARTICLES
Club meeting for December will be planned
..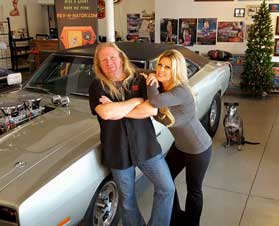 Click on Troy and Laura of "The R/T Garage"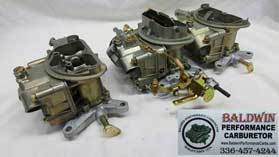 Click Six Pack Carbs to view website of Baldwin Perf.
Smilin' Ed News (President)
The site was updated December 4th 10:45 pm



Click my (Dash / Headlight) button above to view Smilin' Ed's personal page where I have photos of my 1969 Plymouth GTX and " KRISSY", my 1968 Dodge Dart GTS Convertible. (clone) You can Email me clicking the Envelope or the Facebook icon for the club's Facebook. It is always best to just email me if anyone really wishes to reach me.
The Feature Mopar for December is a 2011 Dodge Challenger SRT8. I have just uploaded a new photo gallery for this cool Mopar. Click the Challenger or the 392 image below Elliot's story.
I formed this club in July 2002 with the idea I just wanted a few more cool Mopars to park my 1969 GTX by. Over the years this club has grown to be known in many states, and also other parts of the world. As of this date we have 367 vehicles and 228 members in our club and we continue to keep growing! We have very simple rules in our club with no dues. If you think you want to be a part of us simply contact me. I will be more than happy to send you the club rules to become a part of this "Private Club". Thank you, and enjoy our Mopars.