FEATURE VEHICLE
This month's Mopar is one of my first members of this club, Doug Schneider. Here is Doug's story on his freshly restored 1972 road runner GTX.
I found the car accidentally on a fishing trip in Idaho in lava Hot Springs got lost in the mountains pulled into an old house to turn around and out of the corner of my eyes I saw the tail lights, backed up to look right next to it was a 72 340-4 speed Duster. Two years later I ended up buying both cars, that was in 2003. I sold the Duster and decided to restore the GTX Three reasons why I decided to do it (1) it was all numbers matching (2) lots of options two fender tags and it was rally Red (3) it was a 440-4-speed air grabber dana car. Me and Dan Pousch worked on the car on and off for several years but the last two months we decided to knock it out and get it ready for MATS. Me and Dan have been collecting parts for this for years, every component on the car is correct and date coded accordingly down to every nut and bolt. I have to give a lot of credit to Dan he is a car show judge and a perfectionist, many times I would go to put a part on the car and he would say you can't install that it's not the right color or it's not finished correctly or it's not clean enough that's why it turned out so nice. I polished and repaired all the stainless on the car that was a learning experience. The trim rings on the wheels are original they were sent off taken apart repaired repolished and sent back to us we had to brush the face of them to get the correct finish. This was a pretty complete car to start with so I did not have to buy a lot of production parts we did spend a lot of time restoring the originals. I'm happy the way it came out and runs and drives like a brand-new car.
Thanks Doug (MO-PARTS of LAS VEGAS)
.Please click on Doug's bird-GTX for full photo gallery.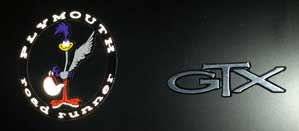 Smilin' Ed News (President)
The site was updated June 1st 12:00 AM



Click my (Dash / Headlight) button above to view Smilin' Ed's personal page where I have photos of my 1969 Plymouth GTX and " KRISSY", my 1968 Dodge Dart GTS Convertible. (clone) You can Email me clicking the Envelope or the Facebook icon for the club's Facebook. It is always best to just email me if anyone really wishes to reach me.
The Feature Mopar for June is a friend of almost 40 years now! Doug Schneider. Doug has restored a very cool and very rare 1972 road runner GTX. Please read his story over in the FEATURE VEHICLE column. By the way, if you need some parts, need a Mopar restored. Doug just might be your man. Click on the CONTACT button and look for MO-PARTS of Las Vegas.
We have some club members attending the M Casino Pool and Car show over there June 10th. Members that are considering showing your Mopar at the event please contact me. The pool area is no longer availble to park but plenty of parking is available in one of the lots for the car show.
I formed this club in July 2002 with the idea I just wanted a few more cool Mopars to park my 1969 GTX by. Over the years this club has grown to be known in many states, and also other parts of the world. As of this date we have 367 vehicles and 228 members in our club and we continue to keep growing! We have very simple rules in our club with no dues. If you think you want to be a part of us simply contact me. I will be more than happy to send you the club rules to become a part of this "Private Club". Thank you, and enjoy our Mopars.