FEATURE VEHICLE
In the fall of 1969 my friend Harry and I hopped on our bicycles and picked up one of every 1970 car sales brochure from every dealership in town.  Included was the 1970 Imperial brochure.  As I looked through it, I discovered that the Imperial had things like hidden headlights, and a pillow built into the C-pillar.  Given that my parents were driving a 1963 Valiant wagon at the time, I figured the Imperial was pretty much the ultimate, and I was going to have one someday.
Fast forward to the year 2000.  I was driving my '66 Town & Country home to Denver from a show in Detroit with a seized A/C compressor.  I pulled off the highway in Iowa to cool off in a combination McDonalds/convenience store, and bought an Auto
Trader to read while I ate.  Inside was what appeared to be an original 1969 Imperial LeBaron with 50,000 actual miles.  It was the last thing I needed, but I didn't throw the AutoTrader away, and a few days after I got home, I called.
The Imperial was a one-owner car, purchased new in the Chicago area by a man who worked commercial construction in downtown Chicago.  In April of 1969 he was on a construction project and saw an Imperial go by.  He asked everybody what it was, and nobody knew.  From his vantage point he could see they were going around the block, so he scrambled down from the building and watched it go by.  That night he took his 1959 Ford Custom 300 4-door sedan and traded it for a brand new Imperial.  He paid $9 over sticker of $7,560 for the car, but they allowed him $1,570 for the Ford.  He retired soon after he bought the Imperial and spent winters in Florida.  The Imperial was his "trip car" to Florida, so it never spent winters in Chicago.
I bought the car from his son in September 2000 after the original owner passed away.  I flew to Wisconsin from Denver, and drove the car back across the country.  The 1969 Imperials came with the base 440, Torqueflite transmission, power steering, brakes and windows, among other things.  This car is additionally equipped with full leather upholstery, Auto Temp air conditioner/heater, AM/FM radio and automatic speed control, among other things.
Since I've had the car, I've done very little mechanically (the occasional alternator and a wiper motor being the biggest items).  I did ultimately decide to have the car painted and the vinyl top replaced.  The LeBarons tend to rust under the vinyl top below the rear window, and I had some questions about its condition.  All ended up being fine, however.  The car sports its original drive train and interior.
I've put quite a few miles on the car through my 15 years of ownership (about 2,000 miles/year).  While not the fastest application for a 440, it'll pull away from a stop sign with authority, I haven't found a hill that will slow it down, and when you arrive from a long drive, you're still rested and refreshed!
The one with the Kingman sign was the start of a trip to Chicago more or less following Rte. 66.  The picture where the car is parked in front of a house was taken outside of Chicago in front of the house where the original owner lived when he bought the car.  The picture on the concrete slab is what is left of the showroom floor at the dealership where the car was purchased.
The photos are in FLASH you won't be able to view the images unless you have Adobe Flash. Click Dane's Imperial logo below to see his car.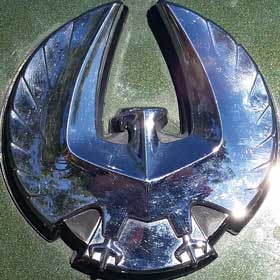 EVENTS AND MEETINGS
Tours are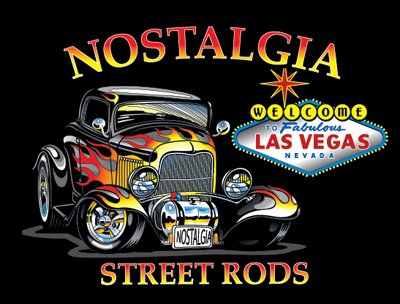 Available
...

Are old friends Timbers next year we will be returning for regular meetings again! Click logo to visit Timbers. Smilin' Ed thanks the company for years of hosting "Mopars of Las Vegas".
Valley of Fire 2015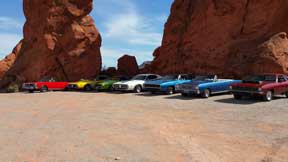 Smilin' Ed News (President)
The site was updated November 26th 11:25AM
Smilin' Ed wishes all that visit the site today a very Happy Thanksgiving to you and your family.
The Feature Mopar for November is a 1969 Chrysler Imperial. Dane is a new member and I welcome everyone visiting the site to read his great story. I have posted his photo gallery of his Imperial. Read Dane's story over in the FEATURE VEHICLE column. You can click the Imperial image, or click on the car itself to begin viewing more photos of Dane's Imperial.
I have just updated my personal Smilin' Ed page if you have seen my page before I have since I created this website have ONLY had 2 columns there. It was as if something was missing. Their was. It was the famous movie car "Christine" click on my page and check out my new column that I have a direct link to Christine there! I also posted a story of why I did this.
I have just posted MATS - Mopars at the Strip logo under EVENTS and MEETINGS as I know the dates have been announced for 2016. Click the button for details.
I formed this club in July 2002 with the idea I just wanted a few more cool Mopars to park my 1969 GTX by. Over the years this club has grown to be known in many states, and also other parts of the world. As of this date we have 367 vehicles and 228 members in our club and we continue to keep growing! We have very simple rules in our club with no dues. If you think you want to be a part of us simply contact me. I will be more than happy to send you the club rules to become a part of this "Private Club". Thank you, and enjoy our Mopars! We do!
Click my (Dash / Headlight) button below to view Smilin' Ed's personal page where I have photos of my 1969 Plymouth GTX and " KRISSY", my 1968 Dodge Dart GTS Convertible. (clone) You can Email me too with the Envelope. AND... Sit down for those that know me! I have added yes, a Facebook icon for the club's Facebook. Click on it and it's my Smilin' Ed page. If you just need to do Facebook go on out and send me a request and when I get to it I will accept you as a friend if I know you. It is always best to just email me if anyone really wishes to reach me.