FEATURE VEHICLE
The Feature Vehicle the next two months is a 1965 Plymouth Belevedere, Below is Matt's story on his very nice Mopar. His photo gallery is being created, and they will be posted in a day or two please check back to view those images.
I wanted a 69 Camaro when I was a kid as my first car. Found a much more affordable 1971 Dart swinger with a 225 slant 6 for $900, and then happened to meet some cool MoPar freaks right after, all a generation older than me. They constantly reminded that I made a better choice Going with a Chrysler product. 2 years later I Got a nice black 1998 Ram D150 at the local dealer at age 18, and have never looked back. Mopar lover since then, along with a solid disdain for anything with a BowTie on it. Yuck.
Last August I scored a nice red 1964 Belvedere in Orange county, I wanted something cool for me and my dog to run around in. 2 weeks later though, she dies of a liver cancer that we didn't know she had. I had zero interest in that car at that point. It got sold quickly after to a friend Al.
I found this 1965 last year on facebook in the north part of Las Vegas. I didn't have the money for it until January of this year. I actually found it by accident going through old chats on my facebook messenger app on my phone. I asked the 72 year old owner if he still had it. Lo and behold, he did.
He had proposed to his wife in one identical, and once married they wanted another just like it. They found this one in Temecula and sent it to Detroit to have it restored. Unfortunately for the car, the wife would not ride in it anymore starting around the summer of 2017, due to a lack of shoulder belts. So it just sat. Until I found it and rescued it!
Its got a 361 with a 727, factory Air Cond., power steering, aftermarket power disk brakes up front (and it stops good) bucket seats with console shift, and an 8 ¾ rear eand with some ridiculously high airplane gear

..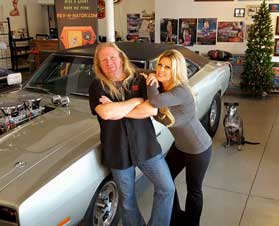 Click on Troy and Laura of "The R/T Garage" Tell Troy and Laura Smilin'Ed sent you. I have the "Rev N Nator" personally on my 1968 Dart GTS tribute convertible. I like it! Click on Troy and Laura to view The RT Garage page.
Smilin' Ed News (Column)
The site was updated May 9th, 2019
For the month of May & June I have selected Matt's 1965 Plymouth Belvedere as the FEATURE Mopar. The photo gallery for Matt's Plymouth Belvedere is now posted. You can click the image or click below Matt's story to view his photos.
If you wish to contact me simply click my envelope button below. My GTX dash and headlights button will take you to my personal page on this site. The Facebook icon will take you to me too. You must email me if you are interested in becoming a member. Facebook is not a way to do that.
LV Concours d' Ellegance. A member is doing this fabulous event here in Las Vegas. Be sure to click the button to see more.
I formed this club in July 2002 with the idea I just wanted a few more cool Mopars to park my 1969 GTX by. I have very simple rules in our club. If you think you want to be a part of the club simply contact me. I will be more than happy to send you the club rules to become a part of this "Private Club"... Contact Smilin'Ed by clicking the Envelope or the Facebook icon for the club's Facebook. Wish to become a member? Email me, I will reply with the club rules.
One of our members that owns "Gemini Jets" has donated a gift to cover website fees. Please click on his business card and image of our club member's Mopar in our club below. Elliot has a very cool diecast airplane shop here in Las Vegas. Check out his store in person, or his website. I personally wish to thank Elliot for supporting our club and my efforts to show off our members vehicles.