FEATURE VEHICLE
The Feature Vehicle the next two months is a 1969 Plymouth road runner (tribute). Jon is new to our club this year too. What better way to welcome a new member that brings the club not 1 Mopar but has two other ones too! Here is Jon's story on his bird: It has been in the family for years since almost new and been a Nevada car it's whole life. I got the car from my father in law in terrible condition and spent countless hours in my garage building it up to what it is today. The only thing I did not do myself on the car is the paint and interior. The car was parked in 1996 and sat until I got the car four years ago. This will be going to my daughter when she is worthy of getting it. Haha. I love the car and have been a mopar guy since I was a little kid, when my mom had a 1971 Charger R/T. I also owned the car for a while before it went to my nephew and it only had 35,000 original miles on it.
Jon's pictures are posted. You can click the image below to see his photo gallery.
..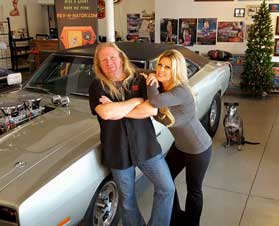 Click on Troy and Laura of "The R/T Garage" Tell Troy and Laura Smilin'Ed sent you. I have the "Rev N Nator" personally on my 1968 Dart GTS tribute convertible. I like it! Click on Troy and Laura to view The RT Garage page.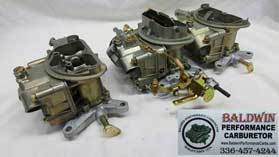 Click Six Pack Carbs to view website of Baldwin Perf.
Smilin' Ed News (Column)
The site was updated February 12, 2019
For the month of January & February I have selected another 1969 Plymouth road runner to show off. Jon is a new member this year, and he tells me his bird ia a (tribute) bird. " Please check out Jon's story in the FEATURE VEHICLE column. I have the website under construction while I am updating the website. Jon will be providing me more images to post also. I will have posted a small photo gallery today.
New links for MATS, and LV Concours d' Ellegance. One of my newest members is doing this fabulous event here in Las Vegas. Be sure to click the new button to see more. MATS is coming again too! If you love Muscle Cars click that button for more too.
A club meeting for February is now scheduled. Members be sure to check your emails.
If you are visiting the site here don't forget to click on the F to become a Mopar friend if you have a Mopar like we have in our club. that "F" will take you to me on Facebook. The Welcome to Las Vegas sign by clicking that takes you to many cool things here in Las Vegas. By clicking on Jon's road runner that will open his photo gallery or in the FEATURE column you can click the image at the bottom to open the photo gallery.
I formed this club in July 2002 with the idea I just wanted a few more cool Mopars to park my 1969 GTX by. I have very simple rules in our club. If you think you want to be a part of the club simply contact me. I will be more than happy to send you the club rules to become a part of this "Private Club".



.. Contact Smilin'Ed by clicking the Envelope or the Facebook icon for the club's Facebook. Wish to become a member? Email me, I will reply with the club rules.
The club is FREE and I have begun this month to allow members in our club that own a business to shine with their own Mopar and give special thanks for the period(s) they wish to dontate for this website's operation of HOSTING fees. The current operational cost(s) demand I ask for donations or I will be forced to allow this website to close down. Below is our first display I will begin doing when any business member wishes to donate for at least 6 months cost(s). Dan a long standing member owns "Puff Vapors" and I have created with his beautiful 1966 Coronet 500 a small display which is a clickable image that will let you see his actual website. I have other business owners in our club you can reach out to simply by clicking the CONTACT.