FEATURE VEHICLE
The Feature Vehicle the next two months is a 2017 Challenger T/A. Here is our members story: Two months ago, this 2017 Challenger T/A popped up in an advertisement at a local dealership. My wife and I were not in the market for a new car, but this was a 6 speed. I had to try it out! The next day, we went for a test drive. Now it is my daily driver. After purchasing the car, I learned that it is only 1 of 97 2017 T/As in this color - Yellow Jacket. The car only had 7000 miles when we got it. The splitter, wicker bill, tires, tint and exhaust were added by the previous owner.....as well as a recorded top speed of 141 mph!
Bruce's photo gallery is currently posted. Please click the button below to view photos of this good looking T/A Challenger.
April 14 club cruise, members need to check your email for details. We are doing a cruise!
..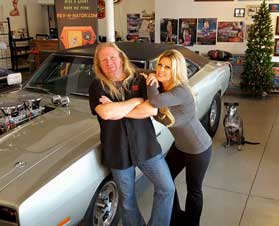 Click on Troy and Laura of "The R/T Garage" Tell Troy and Laura Smilin'Ed sent you. I have the "Rev N Nator" personally on my 1968 Dart GTS tribute convertible. I like it! Click on Troy and Laura to view The RT Garage page.
Smilin' Ed News (Column)
The site was updated April 13th, 2019
For the month of March & April I have selected a member that has been in our club for many years. Bruce most recently bought a newer Mopar and I have to say, this Mopar will surely become something desirable in the coming years. I just postied the FEATURE Mopar photo gallery. You can now click the T/A Challenger or the button below Bruce's story on his car.
The club meeting for March is on I just updated the website and members of the club need to check your email for the current flyer sent to you. (You aren't a member?) Contact me.
If you wish to contact me simply click my envelope button below. My GTX dash and headlights button will take you to my personal page on this site. The Facebook icon will take you to me too. You must email me if you are interested in becoming a member. Facebook is not a way to do that.
New links for MATS, and LV Concours d' Ellegance. One of my newest members is doing this fabulous event here in Las Vegas. Be sure to click the new button to see more. MATS is coming again too! If you love Muscle Cars click that button for more too.
I formed this club in July 2002 with the idea I just wanted a few more cool Mopars to park my 1969 GTX by. I have very simple rules in our club. If you think you want to be a part of the club simply contact me. I will be more than happy to send you the club rules to become a part of this "Private Club"... Contact Smilin'Ed by clicking the Envelope or the Facebook icon for the club's Facebook. Wish to become a member? Email me, I will reply with the club rules.
One of our members that owns "Gemini Jets" has donated a gift to cover website fees. Please click on his business card and image of our club member's Mopar in our club below. Elliot has a very cool diecast airplane shop here in Las Vegas. Check out his store in person, or his website. I personally wish to thank Elliot for supporting our club and my efforts to show off our members vehicles.